Top 5 Trending Door Styles 2019
We understand the importance of making a house a home, and that every home is different. You get to choose how to lay out your living space, choose interior design patterns and schemes to reflect your personality and style. Although you might not think that internal doors are an essential part of the home, they help keep the home segregated and offer privacy. Doors are simply not for aesthetic purposes only; they have many practical benefits we often forget to consider.
The world of interior design is constantly ever growing, with new trends becoming increasingly popular every few months, and home design enthusiasts rushing to hop on these particular trends. We're not surprised the popularity continues to rise, and we're about to have a look at the top 5 trending door styles of 2019. So, if you're looking to enhance your interior with a stunning visual impact and increase the value of our home, the latest door styles can make the biggest difference.
Mexicano
Mexicano doors combine the perfect blend of traditional and contemporary. They provide an authentic, fashionable look and feel to any interior, and they can be commonly found in new build contemporary and modern properties. The Mexicano style features clean, simplistic lines that highlight the natural wood grain finish. Mexicano doors are available in a range of designs, including oak, veneer, glazed and fire doors! You can retain its natural finish, have it in the colour of your choice or as a fire door for additional protection in the home.
Panel
Panel doors are a common door type found in homes of all types, whether it's traditional, contemporary or modern. They boast a silhouette that offers a simplistic yet distinctive look to any interior. These doors come in many designs, and many panels. The most typical design is the 4 panel door, as it's an easy choice which looks good pretty much anywhere. You can have glazed or unglazed versions if you're looking for more sunlight to flow throughout the home.
Walnut
Walnut has taken the interior design industry in the palm of its hands. It provides a sense of modern luxury, which compliments neutral colour tones incredibly. Walnut doors, however, are more suited towards modern and contemporary homes, they showcase elegance and sophistication which ultimately enhances your living space. Due to the deep walnut finish, it's a popular choice for homeowners to opt for glazed doors to brighten up a room, and let the light in too!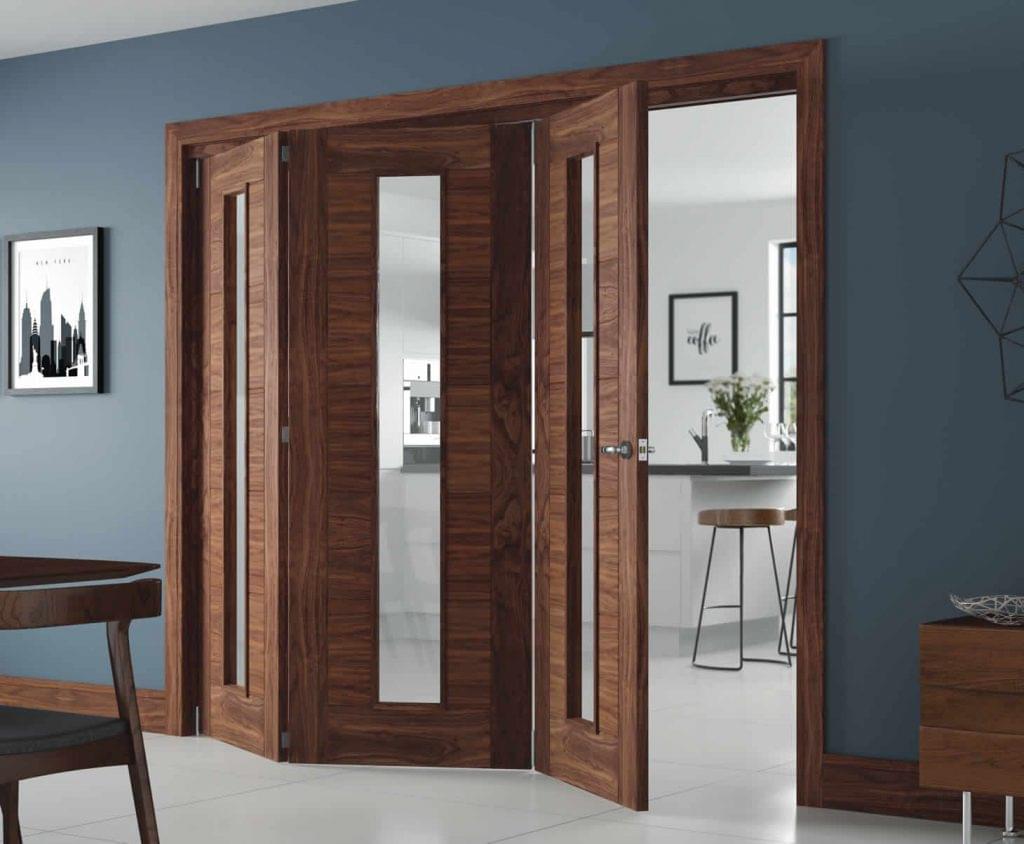 Ash
Ash, along with walnut, has become the colour of the year in modern and contemporary homes. Ash is also known as a shade or tone of grey and it welcomes many millennials to invite this type of colour into their home, and to integrate it with their colour scheme and furniture. Grey doors are only growing in popularity, due to their modern, vibrant, and distinctive designs. If you're looking for modern, sleek and sophistication in your door furniture, you might have just met your match.
Shaker
Shaker style doors are ones that will never go out of date. They are one of the most popular styles in the market today due to their modern twist and distinctive look. More suitable for traditional and modern properties, they can be found in more rustic and vintage properties where character is of the essence. All shaker designs feature clean lines and a wood grain finish, so you can support it's natural look, or finish it off with a colour of your choice.
Your preferred door style will depend on the type of interior you have, and what look and feel you are hoping to achieve. Although it can be overwhelming to choose the perfect door that will last for years to come, we're confident you'll find a door that serves not only fashion and aesthetic needs, but practical and functional ones too.
Discover all of our trending door styles in this article by using the links. It's time to get some door inspiration for enhancing your interior, let's get started, shall we?