Christmas Door Decoration Ideas
If you're the type to put together some last minute Christmas decorations, we might just be able to help! Whether you're wanting to make a good, very festive impression with neighbours or people who pass by, there are various things you can do to the exterior of a home in order to spread the Christmas joy.
Before you say it, we're not talking about the usual lighting or Christmas door wreaths – we're a bit more creative than that!
So, sit back with your festive jumper on, get the hot chocolate, cream and marshmallows on the go and check out our Christmas door decoration ideas for a bit of inspiration.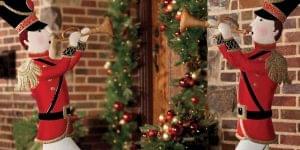 Winter Wonderland
This decoration trick works best with glazed and panel doors because no matter whether you're inside the house or outside, you'll be able to see it. Get your craft on and create snowflakes that can be placed in each panel of the door. They're a lovely addition and not too over the top.
The Door Snowman
One for the kids that they'll adore and enjoy making. You can greet guests with the clever snowman creation, and children can have fun making it! Unless they want to build a snowman outside, this is a great alternative to keep them entertained.
Christmas Door Tags
A simple, authentic addition to your front door this Christmas. If you're one of those to not go 'too over the top', door tags can be your thing. Tags can be easily made with spare wood, cut into any shape of your preference, painted and then you can write a festive message on them!
Garlands
Garlands are a festive decoration that will always be in style and create a Christmas-y look and feel. You can place garlands around the frame of the door and to make a real impact, buy some snow in a can and go a bit wild! Artificial garlands are affordable and last in quality, so you don't have to constantly buy new decorations as each Christmas quickly rolls around.
A Christmas Wreath
Just like Christmas garlands, Christmas wreaths will be around for many years to come. Although they've become a kind of tradition for most households, we can't deny they do have an incredible festive look. If you're looking for a different wreath this year to set yourself apart from others, you can always purchase an artificial plain wreath and decorate yourself! Release your inner arts and craft skills to get in the true festive spirit.
Fairy Lights
Fairy lights have really become a trend this year, and with their aesthetically pleasing appearance, it's no wonder we all love them. They make a great addition to doors that are dark in colour so they can really glow, or they can be used as great accessories on decorations such as garlands and wreaths.
There are many different ways to add a festive style to the exterior of your home, and the ones we've mentioned above are only a few! As long as it gets you in the festive spirit, that's all that matters. If you're looking to improve other areas of your home, be sure to check out our 12 month home improvement calendar and get started with it in 2019!
From everyone here at Internal Doors, we wish you a very Merry Christmas and a Happy New Year.