Black Friday Door Deals with Internal Doors
From 29th November To 2nd December 2019
Black Friday has greeted us once again, and Internal Doors are back with not only one special offer for you, but 4. Black Friday is a global event hosted each year by companies that provide the best deals, and there are customers all across the world that mark it in their calendar determined to get the bargains of their life. If you know that it's time to finally replace the doors in your home that are no longer serving their purpose, our Black Friday door sale couldn't have come at a better time. Enjoy the added warmth and protection in your home over the cold, winter months.
£5 Off All Doors (except price match)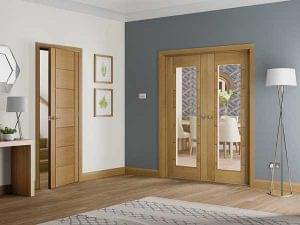 All internal and external doors, including fire doors and bespoke doors have £5 knocked off their usual price. So, if you've been eyeing up one of the Mexicano doors for your contemporary home, a deal is a deal, and £5 is £5.  
Here is an easy buying tip, make sure you've already logged in or created an account with us so you can avoid the disappointment of wanting a shaker door in a particular size then realising someone has just parked it in their basket in the last minute.
Discover all of the doors with £5 off
10% Off Door Accessories
Enjoy 10% off all door handles, knobs, ironmongery, hinges, latches, locks & bolts, hooks, turn & releases, keyhole covers, hardware packages, letterboxes, door bells, knockers and numbers, in either chrome, brass, black, stainless steel or distressed silver, for both internal and external doors.
We understand the stress and hassle it can be to perfectly match your hardware and accessories, but with us it's never been easier. All of our products are high quality and affordable, and if you require further assistance in which to pick, just give us a call!
Browse the 10% door accessories sale in full
Up To £20 Off Selected Doors
We've handpicked a few doors and knocked up to £20 off their full price, because it's Black Friday and we're nice like that. You can discover the full range by visiting our Black Friday sale page.
£50 Off Bespoke Doors
We thought we would save the best till last with an amazing £50 off our bespoke doors range. Our bespoke collection features oak, French and fire doors so depending on what you are looking for, you can spend an extra £50 on door accessories or simply save it for a rainy day! Bespoke sizes are available in various different styles and finishes. It might just be time to get your perfect bespoke door in the Black Friday door sale before it's too late.
Please remember that our Black Friday sale products are only available while stocks last and ALL discounts are applied at checkout. The sale ends midnight on Cyber Monday, so it's time to get your shopping game on and come back when it's finally time to save some pennies and grab a few bargains that your bank account will thank you for.