Choosing the Right Hardware for your Internal Door
Door knobs, handles, hinges and locks - which one should I choose for my door?
Now you have chosen the perfect door to compliment your home, it's time to pick out your door furniture and add that all important finishing touch. But with so many styles to choose from, it can be difficult to make a decision and pick out the right furniture to achieve your desired interior look. With plenty of experience in helping people get the finish they really want, we've put together a short guide to hopefully point you in the right direction! 
With our doors for the most part split into modern and traditional styles, knowing which yours falls under is a major step in the right direction towards choosing the right hardware to accompany it.
Door Knobs or Door Levers?
Your handles are usually what first catches a person's eye when using a door so we highly recommend choosing these first selecting the rest of your door hardware to match them. But even before that, you need to decided whether it's a handle you want to fit or if you'd prefer a slightly more traditional look which will be better achieved by installing door knobs. In addition to the looks offered by both options, there are functional considerations to take into account too.
Door Knobs
- This timeless door accessory dates as far back as the 17th century. Most styles will suit even the most traditional of doors, yet the sleek simple style will not look out of place on modern doors either. Difficult for children or pets to open, which is a safety feature in itself. They are usually more forgiving if you bump into them and you are less likely to catch your clothing on them.
Door Levers
- Available in a wide variety of styles from rustic and traditional to contemporary. Door levers are often considered luxurious and upmarket. Usually a better choi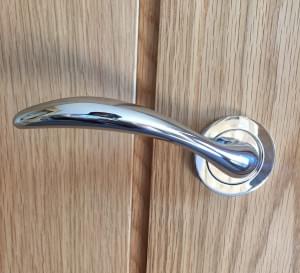 ce for those with limited hand or arm strength. A point to consider is that children and even some persistent pets may be able to open a door with a door lever installed. On the up side, opening a door using a door lever is far easier with your hands full than having to twist a door knob. You also need to keep in mind door levers match the door orientation, so if you have a left or right opening door, ensure your door knobs open the same way.
Hinges
It is advisable to choose hinges which match the finish of your handles, so if you have chosen brass handles, choose brass hinges too, this will create a seamless, consistent look. Most people prefer to have two hinges per door which will suffice in holding the door securely to the frame, but some like three hinges per door, this is usually for aesthetic reasons. The standard 3" butt hinge is the most popular for the majority of internal doors, although cottage doors such as ledge and brace look better with butterfly,  H or T Hinges.
Locks, bolts and turn and releases
Some rooms such as a bathroom in some instances a bedroom, may require a lock. There are a variety of options to choose from such as the standard bolt, which sits on the surface of the door, or you may want to choose a latch with a built in lock which is fitted on the mechanism inside the door. This will need to be accompanied by a turn and release on the outside of the door, often considered a better finish than the standard bolt. So whether you have gone for
door knobs
or 
handles
 for your
internal doors
 we are sure you will make the right decision. Take a look at our entire range of door hardware and accessories
here
.