Bi-Fold Sliding Door range
Internal Doors are delighted to introduce our brand new bi-fold, sliding door range.
Bi-fold internal doors have retained their popularity for many years, offering more freedom than conventional doors and the ability to quickly, easily and temporarily alter your home's interior.
Bi-fold doors are the perfect way to separate a large room or to bring together two smaller rooms, a great way to create a home for any occasion. A larger room is great for entertaining guests whilst smaller rooms are far more private and cosy, ideal for a couple or family. Bi-fold doors are the only way to benefit from both scenarios and what's more, they're far more affordable than making permanent changes to your home's layout.
Internal bi-fold doors are again becoming
increasingly popular and as a result we have an extensive range of both contemporary and traditional styles to suit any home. Whatever look you currently have or are looking to achieve, there is a bi-fold internal door to suit. From our modern Mexicano bi-fold door to the highly detailed and more traditional six panel Victorian bi-fold door.
In addition the Mexicano and Victorian six panel bi-fold internal door options, there are also various others including some of our most popular lines.
The easy to assemble kit comes with the following: doors, running hardware and head track. The wood is unfinished allowing you to treat in your desired shade of wood finish.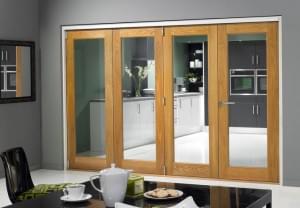 Available in sets of 3, 4 and 6 doors, you are sure to find the right fit for your home's interior.
Installation is simple, there is no need to cut down the doors to size, they should fit perfectly onto the tracking system. The tracking system is top-hung, which ensures you do not need to fit anything along the floor.
Why not view our entire bi-fold door range and choose the perfect doors for your home?