Internal Doors: Choosing the right internal doors for your property
Internal doors are a hugely important part of your home décor. The style of internal door that you choose will make a big difference to the overall look and feel of the property. Choosing new internal doors is a pretty big decision and one that needs careful consideration. Many people will purchase new doors after moving into a new property, or, if renovating an existing home, internal doors will very often be one of the elements that gets an overhaul. InternalDoors.co.uk have a very wide range of internal doors offering an amazing variety of styles so it should be easy to find the perfect internal doors for your home.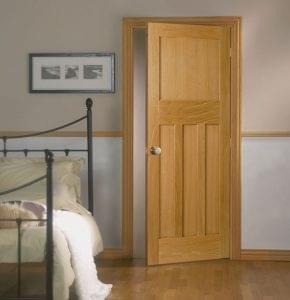 The range of internal doors includes Victorian doors, Edwardian doors, glazed internal doors, panel doors, French doors, contemporary doors, cottage doors, fire doors, barn doors and more. Not only that but we offer internal doors in many different materials and colour variations. Choose from oak or engineered oak doors, walnut doors, cherry or oiled/painted pine. If you need help or advice when it comes to finding the right internal doors for your home then we are here to help and we'll always try and give you the very best advice on finishing, storage and fitting.
Internal doors & what to consider
When choosing internal doors, consider: the age and style of the property, how much light there is in the property (consider glazed doors if you need to add some light), also ongoing maintenance (can you be bothered?), and of course the budget for the project. Clearly a barn conversion or country cottage will require very different doors to a modern urban flat. Period terraces again, can be given a new lease of life whilst still in keeping with the property by selecting the right style of internal door.
Some doors will need to be treated with a hardwax oil, others will need to be varnished or painted. If you're a complete DIY phobe then (depending on the door) we can finish it for you (or you could go for a pre-finished door option).
Edwardian internal doors are styled according to the 1930's and will add a wow factor to any period home. Victorian internal doors are as popular as ever and can come as a 4 panel or 6 panel style. Choose from glazed, half glazed or have all wooden panels. Consider fire doors for additional security and safety. It really all comes down to personal preference. What is clear however, is changing the doors in your home can make an enormous transformation to your property. In difficult economic climates, many people have decided against moving home and have instead opted to change the interior of their existing property. Don't change house, change your internal doors! It can make a huge difference!