Top 5 Trending Internal Door Styles in 2020
We know that every home is different, you will each have your own individual style, design, tastes. You'll have your favourite colours, pieces of furniture that you saw, and it was love at first sight, accessories you can't live without. Our homes ultimately reflect our personalities, which is why many of us take great pride in making it cosy, warm and inviting for guests and visitors. Even though doors aren't something you consider a significant furniture piece in the home, they are symbols of both form and function, and they do have an impact on your overall interior design.
Choosing the right doors to suit your own tastes, and your home is incredibly important, and it's good news for those who love being spoilt for choice! Trends often provide us with inspiration, so we've compiled a list of the top 5 trending internal door styles this year, so your decision making process becomes a little easier. If you're rethinking upgrading your internal doors, you're definitely in the right place for inspiration.
Here are our top 5 internal door style trends for 2020. Please note these are predictions, based on popularity, functionality and best sellers.
1. Flush Doors
What are flush doors?
Flush doors offer a simplistic design that is mostly used in contemporary and modern homes. They feature plain facings on both sides, and are available as external doors too. They are extremely functional and durable, and support a solid, hollow or stave core. Solid flush doors tend to be heavier than other alternatives, as these are more suitable when used to form a passage between two rooms.
What makes flush doors so appealing?
Interior design experts have named internal flush doors as one of the trending doors of 2020. This is because they are pocket friendly, affordable and offer a unique look. The simple and smooth facings is what makes them so attractive and popular in minimalist interiors. You can rest assured flush doors provide durability, functionality, strength and insulation in the home.
Our top recommendation
Seville Pre Finished Oak Internal Door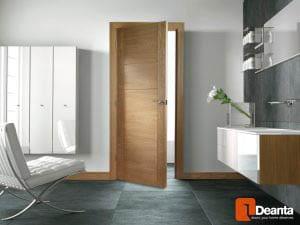 2. Bifold Doors
What are bifold doors?
Bifold doors can also be known as sliding doors or folding doors. They are made form a series of panels that essentially fold up against the wall. These doors can be used as internal doors or external doors, but most often they are used inside the home to optimise space in small areas.
What makes bifold doors so appealing?
Bifold doors come in a variety of different styles to compliment whatever interior it is that you may have, whether it's traditional, modern or contemporary. Bifold doors are durable, flexible and attractive. They can be used as wardrobe doors, pantry doors and more throughout the home where space is short.
Our top recommendation
Pattern 10 Glazed Oak Bi-Fold Door
3. Fire Doors
What are fire doors?
Fire doors are doors that save lives. They are produced using specialist materials that protect against fires, and are tested against the elements to ensure they can withstand fires for as long as possible. There are strict regulations if you own a commercial or non-domestic property, so it's important that they can withstand certain heats.
What makes fire doors so appealing?
Fire doors do not compromise on style or aesthetics. The only difference between fire doors and standard doors, is that fire doors are built using components that serve to protect against fires. For example, around the edges of a fire door, there will be the intumescent seal – this is designed to expand when temperatures reach beyond 200 degrees. This seals the gap between the door and the frame.
Our top recommendation
Galway Unglazed Vertical Panel Oak Fire Door
4. French Doors
What are French doors?
French doors are two identical doors side by side and they open outwards. These doors are most popular towards the back of the house, so that they can create a spacious route into outdoor garden space. Many people mistake French doors for patio doors, and the difference between the two is that patio doors are sliding, whereas French doors do not slide.
What makes French doors so appealing?
Internal French doors is a great way to create more space and allow more sunlight into the home. They are stylish and offer a cost effective solution to separate two rooms. You will find French doors usually in the living / dining area, or at the back of the home which leads to the garden.
Our top recommendation
Lincoln Glazed Oak French Door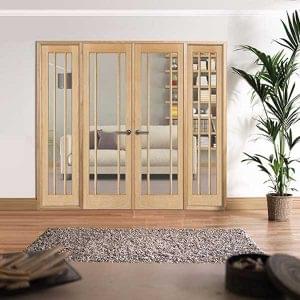 5. Barn Doors
What are barn doors?
Barn doors are mostly suited and found in country homes, but they have become the hot trend in the last year or so. They provide a distinctive and unique look and appeal to the home, which is ideal if you're aiming for an interior like no other.
What makes barn doors so appealing?
Their rustic appeal, versatility and functionality are just some of the reasons why barn doors have become incredibly popular. Most suited towards contemporary and traditional homes, they can add a lovely sense of character to any room.